Give a New Lease on Life
Perform a more complete revascularization in a single procedure with the Impella® heart pump
Impella Mitigates the Risk of Higher In-Hospital and 30-Day MACCE for Surgically-Ineligible Patients
Patients who are ineligible for surgery and received Protected PCI demonstrated no difference in in-hospital or 30-day MACCE when compared to patients who were eligible for surgery and received Protected PCI.1
Instructions for Receiving CME Credit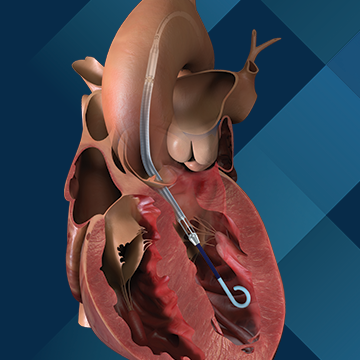 Impella is the only FDA-approved mechanical circulatory support device that mitigates mortality risk for surgically-ineligible patients undergoing high-risk PCI
Patients deemed ineligible for surgery experience increased acute and long-term mortality.2
Protected PCI with Impella Mitigates Mortality Risk
Protected PCI with Impella support mitigates the risk associated with performing unprotected LM PCI in CABG-ineligible patients.1
More Complete Revascularization Associated with Improved Survival
Better manage procedural complications and perform a more complete revascularization, which is associated with improved EF and survival.3
Complete Revascularization: Examining the Evidence Focused on Surgical Ineligibility
Adam Salisbury, MD, discusses what we know about the surgical ineligible population and how complete revascularization is different in prohibitive surgical risk patients.
Live Case Highlights: Impella-Supported Complex Revascularization in Patient with Severe LV Dysfunction
This case highlights Impella-supported complex revascularization in the setting of severe left ventricular dysfunction. The operators are Kate Kearney, MD, and William Lombardi, MD. Panelists are Tom Waggoner, DO, George Vetrovec, MD, and Seth Bilazarian, MD.
Complete Revascularization is Associated with Significant Improvement in LVEF and Long-Term Survival
Francesco Burzotta, MD, and Carlo Trani, MD, discuss the objective of Roma Verona Study and the extent of revascularization on LVEF and survival in complex high-risk indicated patients undergoing Protected PCI.
Clinical Relevance of Revascularization Extent in Protected PCI: Insight From Italian Studies
Francesco Burzotta, MD, discusses better clinical outcomes in both cardiogenic shock and high-risk PCI subgroups with more complete revascularization.
References
Meraj, P.M., et al. (2019). J Interv Cardiol, 2019, 1-9.
Waldo, et al. (2014), Circulation. 130, 2295-2301.
Burzotta, F., et al. (2019). J Interv Cardiol, 2019(5), 1-10.