Protected PCI
Clinical Evidence
Safety and Efficacy
Extensive data, including randomized controlled trial data and FDA-reviewed studies, support Impella® safety and efficacy.1,2,7
Impella 2.5® and Impella CP® maintain patient hemodynamics which may allow for more complete revascularization and reduction in major adverse coronary and cerebrovascular events (MACCE).8
Impella heart pumps are associated with reduction of kidney injury during high-risk PCI.3
PROTECT III, the most contemporary data, continues to show a reduction in MACCE with Impella2
All MACCE to 90 Days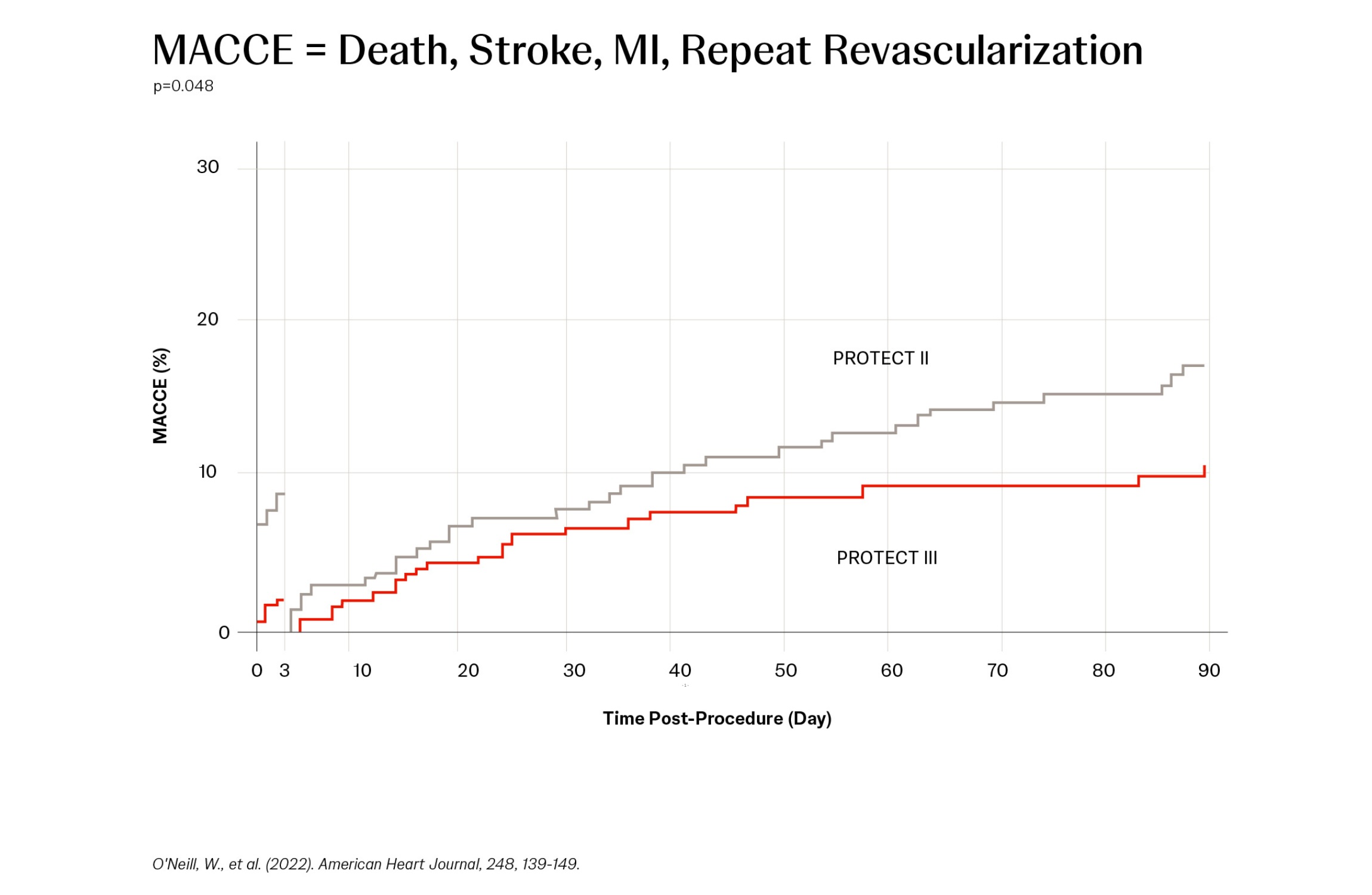 Complete Revascularization Associated with Improved Outcomes
Benefits in high-risk acute coronary syndrome (ACS) patients at 1 year4
71% risk reduction in all-cause death
27% risk reduction in major adverse cardiovascular events (MACE)
41% risk reduction in myocardial infarction (MI)
Benefits in high-risk STEMI patients at 3 years5
26% risk reduction in cardiovascular (CV) Death/MI
47% risk reduction in CV Death/MI/Revascularization
Meta-analysis of benefits in 11 high-risk STEMI studies6
29% risk reduction in CV Death/MI
Protected PCI Improves Quality of Life
Clinical data demonstrate that Protected PCI improves quality of life by increasing ejection fraction, reducing NYHA class, reducing adverse events, and reducing acute kidney injury requiring dialysis.3,7,8
"PROTECT III clearly demonstrates how the evolution and adoption of Impella best practices can lead to an improvement in safety and MACCE."
- William O'Neill, MD, Principal Investigator for PROTECT II and PROTECT III
Resources from the Education Library
Clinical Dossier: Protected PCI with Impella
Features current clinical experience with Impella, clinical need for Impella in high-risk PCI, clinical evidence of safety and effectiveness of Impella Protected PCI, and more.
References
Dixon, S.R., et al. (2009). JACC Cardiovasc Interv, 2(2), 91-96.
Moses, J., et al. (2020). Presented at TCT Connect 2020.
Flaherty, M.P., et al. (2017). Circ Res, 120(4), 692-700.
Généreux, P., et al. (2012). J Am Coll Cardiol, 59(24). 
Mehta, S.R., et al. (2019). N Engl J Med, 381(15):, 1411-1421.
Bainey, K.R., et al., (2020) JAMA Cardiol. 
O'Neill, W.W., et al. (2012). Circulation, 126(14), 1717-1727.
Dangas, G.D., et al. (2014). Am J Cardiol, 113(2), 222-228.