Overview
The OXY-1 System is the novel, easy-to-use, compact cardiopulmonary support system, with an integrated oxygen concentrator and pump that provides an independent oxygen source to support transition from bed to ambulation via system portability. The OXY-1 System pumps, oxygenates and removes carbon dioxide from blood.
Designed for Mobility: All-in-one compact design with built-in oxygen concentrator
Integrated Pump Lung Unit: Volute spiral technology designed for uniform blood flow to minimize stagnation and thrombosis
Advanced Gas Exchange Technology: Innovative gas path enables full therapy with minimal O2 demand
Easy and Intuitive: Simple for health care providers to set up, manage and monitor
Tailored Patient Strategy with Abiomed Support: 24/7 on-call and on-site support for Impella® and extracorporeal MCS
Oxygenator Performance
Hospital to Home: Walking and Talking with Abiomed Breethe OXY-1 System
Bart Griffith, MD, presents and leads a panel discussion on clinical experience with the OXY-1 System. The presentation covers the vision for extending ECMO beyond the ICU and the development of the OXY-1 System. Dr. Griffith and the panelists discuss the importance of patient ambulation, the small footprint of the Abiomed Breethe OXY-1 System in the ICU, and various aspects of the system design.
The OXY-1 System is designed with an advanced gas exchange technology, including an innovative oxygen concentrator that provides full patient support with reduced O2 demand.
Accessories
Pump Lung Unit Disposable (PLU)
Console
A set of alarms monitors and alerts the operator when the system operates outside operator defined alarm limits or system defined limits. The integrated back-up battery system provides up to 3 hours of battery life.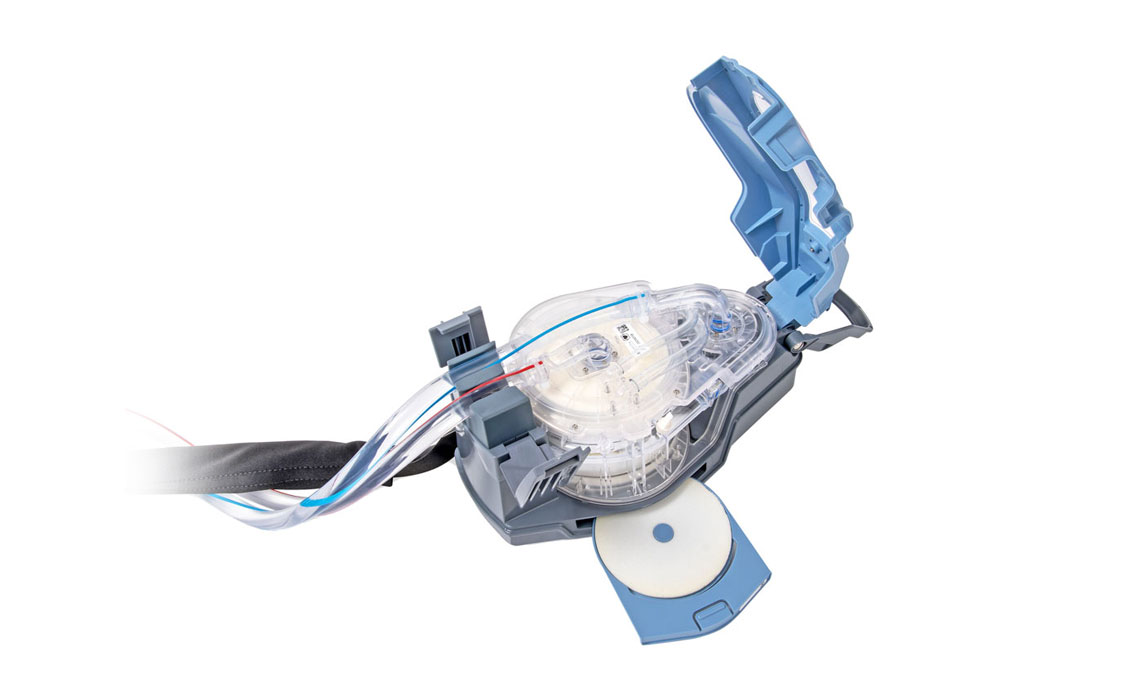 Pump Driver Unit
1. Pump Lung Unit (PLU)
2. Blood Tubing
3. Condensation Tray
4. Cable Guard
5. Pump Driver Lid
6. Ultrasonic Flow Sensor & Bubble Detection
Disposable PLU
The OXY-1 System Pump Lung Unit Disposable is an integrated pump and oxygenator containing a polymethylpentene (PMP) hollow fiber membrane.
Additional Resources

Instructions for Use
Abiomed Breethe OXY-1 System instructions for use and reference manual
Download PDF

Instructions for Use: COVID-19
Abiomed Breethe OXY-1 System™ with Instructions for COVID-19
Download PDF
Abiomed Breethe OXY-1 System Device Indication & Safety Information
Indications for Use
The OXY-1 System is intended to be used for extracorporeal circulation. The OXY-1 System pumps, oxygenates and removes carbon dioxide from blood during cardiopulmonary bypass up to 6 hours in duration.
Intended Users
The OXY-1 System must be operated and/or monitored by users with specialized training in extracorporeal circulation therapy. These users include perfusionists, extracorporeal circulation specialists, ICU nurses with specialized extracorporeal circulation training, cardiothoracic surgeons, intensivists, and others with specialized training and experience. Users are required to be knowledgeable and experienced in methods that require cardiopulmonary bypass and mechanical circulatory support.

Utilization of the Abiomed Breethe OXY-1 System requires clinical judgment for patient risks vs benefits in all circumstances and requires specialized training in the use of cardiopulmonary bypass systems for safe operation under the direct supervision of a qualified physician. This is a prescription-only device.
Important Risk Information
Contraindications

This device used for any other purposes than for the indicated intended use is the responsibility of the user.

In addition to the risks above, there are other WARNINGS and PRECAUTIONS associated with the Abiomed Breethe OXY-1 System.

TEMPORARY ECMO INDICATION MODIFICATION DURING COVID-19 EMERGENCY

Under guidance issued by FDA, on April 6, 2020, the Abiomed Breethe OXY-1 System is now permitted to be used temporarily in the U.S. for ECMO therapy greater than six hours. Therefore, it now has a limited indication modification for use longer than six hours in an extracorporeal membrane oxygenation (ECMO) circuit to treat patients who are experiencing acute temporary respiratory or acute cardiopulmonary failure. This limited indication modification for ECMO therapy greater than six hours has not been cleared or approved by FDA and is in effect only for the duration of the public health emergency related to COVID-19 as declared by the U.S. Department of Health and Human Services (HHS).