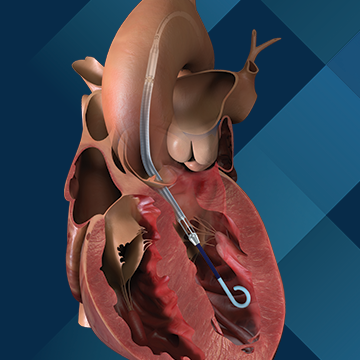 Your Destination for TCT 2023 Resources
October 23–26, 2023
The Contemporary High-Risk PCI Patient: Beyond PROTECT III
Daily TCT Recap of October 26
Watch Chuck Simonton, MD, and Seth Bilazarian, MD, discuss data, late-breaking clinical trials and TCT 2023 news.
Daily TCT Recap of October 25
Daily TCT Recap of October 24
The Contemporary High-Risk PCI Patient
The confluence of three factors—coronary complexity, patient comorbidities and hemodynamics—influence the decision to use Impella in high-risk PCI (HRPCI).1
The A-SMART-EF Risk Score Can Help Predict 90-Day Mortality in Patients Undergoing Impella-Assisted PCI2
Predicting the risk of mortality before a HRPCI is important for patient selection and shared decision-making. Using the 1237 patients from PROTECT III Study, specific characteristics were identified as being helpful at predicting mortality risk at 90 days. Those included (1) Age > 75 years, (2) SYNTAX score ≥ 33, (3) MI at presentation, (4) Hgb < 12 mg/dL, (5) GFR < 60 mL/min/1.73 m2 and (6) LVEF < 35%. 
The resulting SMART-EF risk score was developed and helped to stratify patients into low or high-risk groups for predicting 90-day mortality.
Preview PROTECT III Abstracts Presented at TCT
High-Risk PCI and Use of MCS
William O'Neill, MD, defines high-risk PCI and explains how to decide when to use mechanical circulatory support in this short interview.
A-SMART-EF Score
Alejandro F. Lemor, MD, disusses A-SMART-EF, a new risk score for predicting outcomes in patients supported with Impella® during PCI.
cVAD Registry v. Insurance Databases
William O'Neill, MD, and Alejandro Lemor, MD, compare insurance databases to the cVAD registry, and discuss factors that characterize high-risk patients requiring MCS.
Impact of Complete Revascularization With Impella
View an overview about the York data analysis - a pooled Individual Patient Data (IPD) analysis of pVAD and IABP in high-risk PCI, presented by Vasileios Panoulas, MD, at EuroPCR 2023 (part one) and ESC 2023 (part two).
References
Truesdell, A. (2023). Defining High-Risk Percutaneous Coronary Intervention: Characteristics of Patients Undergoing Contemporary Percutaneous Coronary Intervention with Axial-Flow Mechanical Support [Conference presentation abstract]. Transcatheter Cardiovascular Therapeutics (TCT) Conference, San Francisco, California.
Shah, et al., (2023). Transcatheter Cardiovascular Therapeutics (TCT) Conference, San Francisco, California.